Day 1. Arrival of Beijing hotel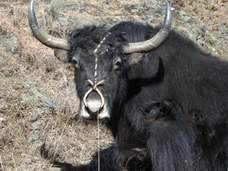 Day 2. Visit heavenly temple in the morning and take a flight to Xining hotel
Day 3. Drive to Lijiaxia dam lake and take a boat to Nanzong nunnery and visit Danxia landscape drive back Xining in the afternoon Tibetan hotel
Day 4. Start trekking from Kumbum to Jingfangtai (one very small meditation monastery of Kumbum) visit Farmer Tibetan village camping
Day 5. Jingfangtai trek to Nanfoshan (Rock hill and the landscape is very beautiful and changed) visit one Daoism temple on the cliff camping
Day 6. Nanfoshan trek to Damoshigou along rock hill, visit forest and one very old water power stone grinding mine in a village camping
Day 7. Damoshigou trek to Dashimentan crossing one mountain along oneZig-Zag small road camping
Day 8. Dashimentan trek to Dongchatan cross one pass camping
Day 9. Dongchatan trek to Baimuxia pass through one very narrow valley along one little river camping
Day10. Baimuxia trek to Benkangtai crossing one rock hill, camping
Day11. Benkangtai trek to Ri-yue Mt. (Sun-Moon Mt.) visit Sun-Moon Mt. pavilions there camping
Day12. Ri-yue Mt. trek to Dandou village (One Mongolian village) camping
Day13. Dandou village trek to Yuanzhe monastery camping
Day14. Yuanzhe monastery trek to the bank of Korkornor lake, holding one bonfire meeting camping
Day15. Visit korkornor lake and random in the desert on the bank of lake, drive back Xining in the afternoon hotel
Day16. Take a flight from Xining to Beijing hotel
Day17. Exit 
Quotation:
1860 USD / pax 1 person
1640 USD / pax 2 persons
1440 USD / pax 3-5 persons
1360 USD / pax 6-9 persons
1280 USD / pax Above 10 persons
Including:
1. Flights: Beijing/Xining Xining/Beijing
2.Hotels, foreign language guides in city, English and Tibetan guide in mountain, cook, cook helper, yaks, yak drivers, cooking tents, mess tents, toilet tents, chairs, all food, mattresses.
No including:
1.Sleeping bags, Sleeping tents. 
2.Tips for staff 
Attentions:
We can also arrange and change our routes according to your any requests.