Shamans, or "Lhawa" in Tibetan, are average individuals whose bodies are inhabited by a  god at specified times of year. Through the medium of the shaman, the god then advises local people on how to maintain safety and good fortune. Special shaman's festivals are held at which villagers gather to hear the advice of the shaman. Ritual dancing and play- acting by villagers are also part of these festivals. On this trip, you will witness several shaman's festivals occurring in various villages, travel to monasteries, and visit thangka (religious painting) schools.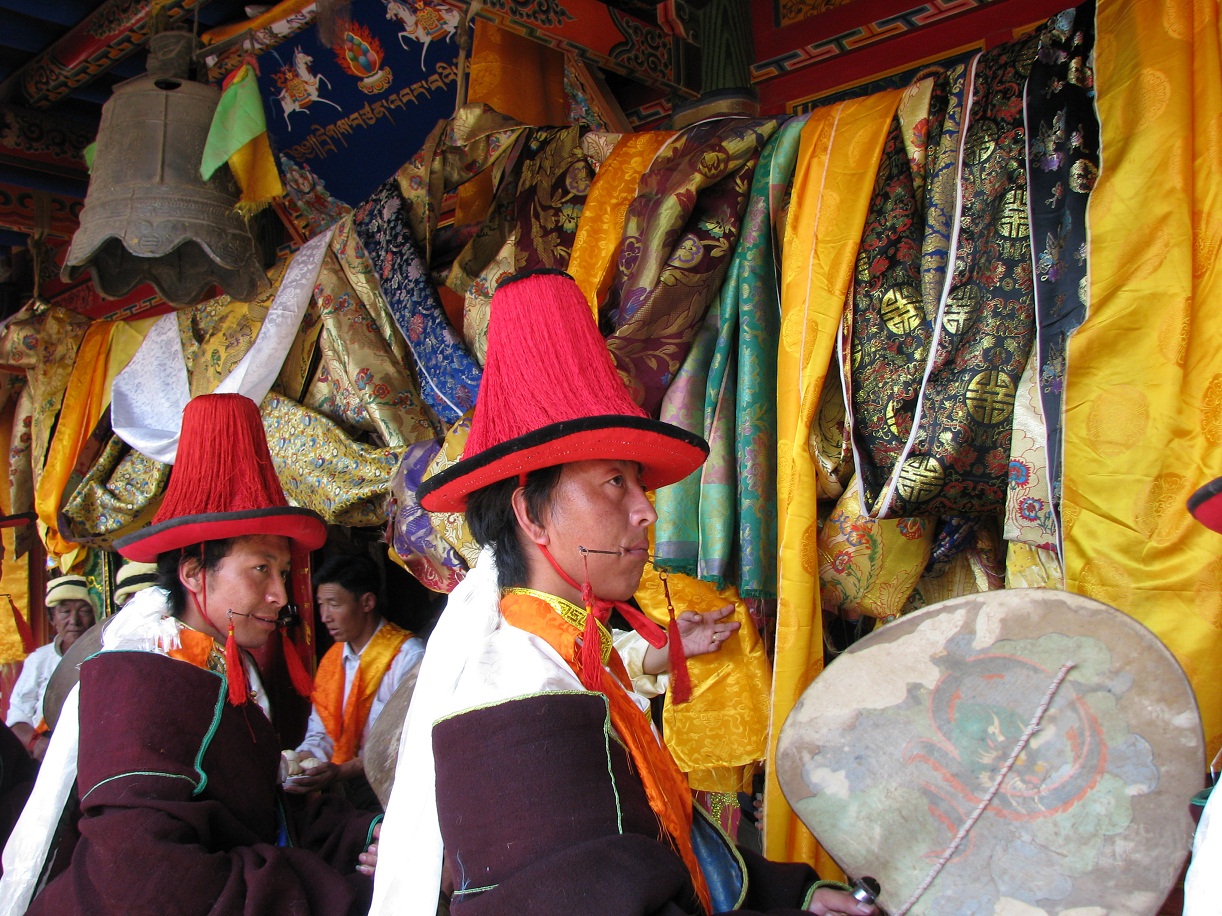 Highlights
Numerous monasteries, several shaman's festivals, the Gangya grasslands, thangka painting schools, Amdo nomads and their yaks

itinerary
Day 01. 
Fly to Beijing.
Day 02. 
Flight to Lanzhou. 
Day 03. 
Lanzhou-Labrang through Linxia. 
Day 04. 
Visit Tashi Kyil Monastery in the morning. After lunch free time in the town. 
Day 05. 
Labrang-Repkong through the Gangya Grasslands.
Day 06. 
Drive to Mayba town and see the Shaman's festival there. 
Day 07. 
Drive to Sakkyi town and see the most famous Shaman's festival. 
Day 08. 
Drive to Lhanggya town and see the festival there. In the afternoon, visit some Tibetan families. 
Day 09. 
Visit Riwong Gonchen monastery. This was founded in 1301 by the great master Sangda Rinchen. In the afternoon, visit the two famous Tibetan Thangka painting schools known as Sangeshong Yagotsang (which was founded in 1385 by Rebkong Kyalgon), and Sangeshong Magotsang (founded in the 16th century). 
Day 10. 
Rebkong-Xining along the Yellow River. On the way you will visit the oldest monastery in East Tibet called Martsang Drak. 
Day 11.
Fly out

This is a suggested itinerary, and we are happy to amend in accord with individual client wishes.  In addition, listed here is a summary of this trip's itinerary.  For more detailed information on this or any other trip, please contact us. 
USD 1280
Single Supp: USD 280
Please Note: Trans Tibet Tours reserves the right to substitute any of the mentioned hotels in the itinerary with properties of the same or similar class should the circumstances require us to do so.
What's Included in Tour Prices:
Four star international standard hotel accommodations, double occupancy in Beijing, Lanzhou, and Xining. Best hotels or guest house in Huangnan.
Ground transportation (arrival, departure airport transfer and during tours)
Transfers and luggage (1 piece of 45 pounds per person) handling
All sightseeing and activities listed in the itinerary
All meals specified in the itinerary
Service of an English-speaking Tibetan tour guide(according to the group size, we can offer 2 or more guides)
Private and clean vehicle with air-conditioning
What's Not Included in Tour Prices:
International airfare
Gratuities to guides and drivers
Items not listed and/or specified as included in the itinerary