Shamans, or "Lhawa" in Tibetan, are average individuals whose bodies are inhabited by a  god at specified times of year. Through the medium of the shaman, the god then advises local people on how to maintain safety and good fortune. Special shaman's festivals are held at which villagers gather to hear the advice of the shaman. Ritual dancing and play- acting by villagers are also part of these festivals. On this trip, you will witness several shaman's festivals occurring in various villages, travel to monasteries, and visit thangka (religious painting) schools.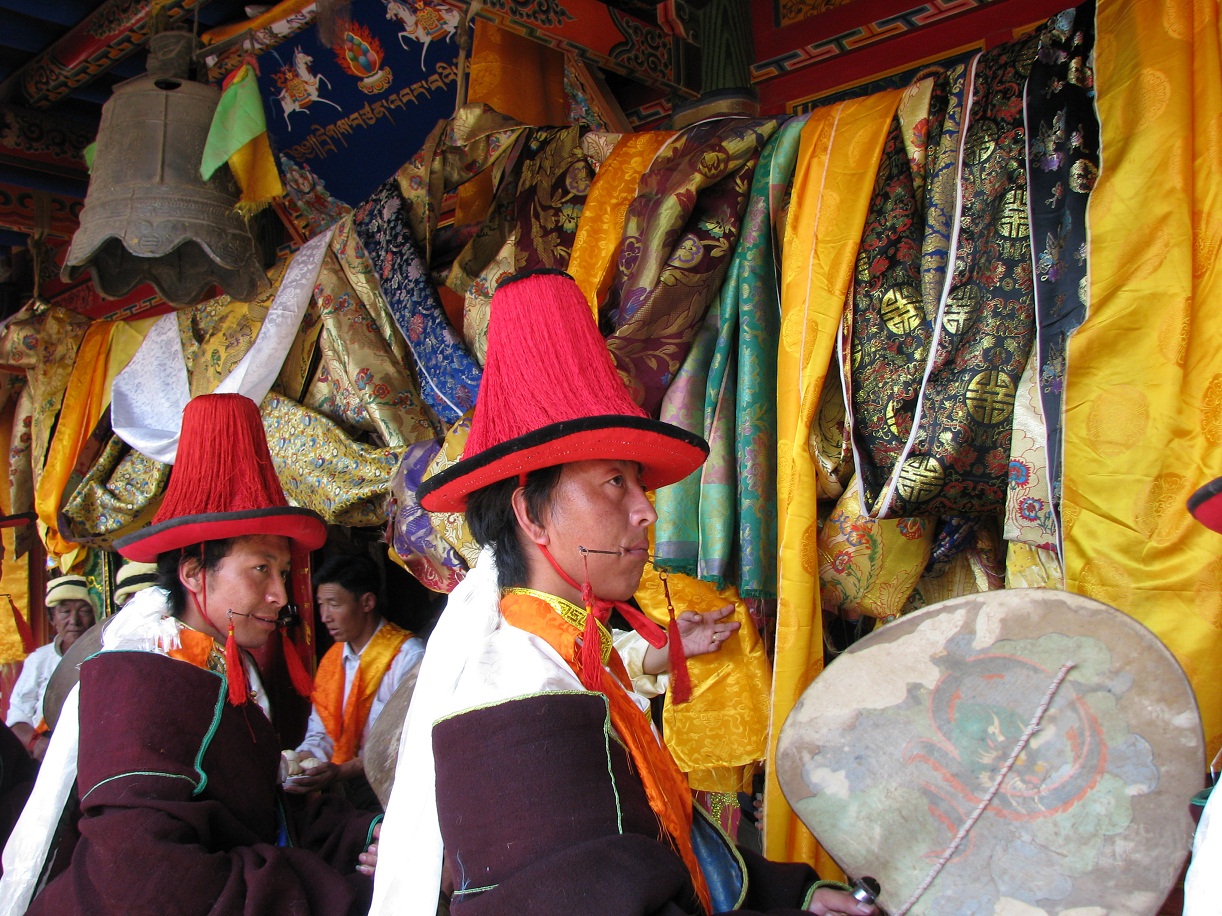 Highlights
Numerous monasteries, several shaman's festivals, the Gangya grasslands, thangka painting schools, Amdo nomads and their yaks

itinerary
17 July Day 1: Chengdu, overnight in Chengdu.
18 July Day 2: Chengdu – Xining by Sichun Airlines 08.50-10.30
Arrive Xining [2270m]
Arrive Xining Airport, visit Qinghai Tibetan Medical and Cultural Museum which is the by far the best and most authentic Tibetan Museum in the world. By visiting different halls of this museum, you are traveling from Tibetan medicine, religion, history, politic, astrology, geology and other important subjects which is dominated in the history of Tibet.
19 July Day 3: Xining – Shachung Monastery – Rebkong [2480m] 220km 4 hours
Drive from Xining to Shachung Monastery, which is located on a mountaintop and has a great view of Yellow River in the opening valley. This is one of the most historic and renowned Geluk monasteries in Amdo, founded in 1349 by Lama Dhondup Rinchen, the teacher of Tsongkapa. Though the monastery is famous among Tibetans but it is not well known in the tourism and most of the visitors are Tibetan from pilgrims from all over the Tibetan regions. Afterwards, we will descend into the valley and drive to Repkong via some Muslim and Tibetan villages.  Repkong or Tongren is home to three large Tibetan Buddhist monasteries and is famous across Tibet for its artists. Along the way, we will a catch beautiful views of the Yellow River as driving along with it. Once we reach at Rebkong, visit Rongwo Gonchen, the principal monastery of Rebkong area and the mother monastery of some 8 other branch monasteries in the reigon, The Rongwo Gomchen monastery originally constructed in 1310 and developed by the Sakya master Samten Rinchen as Sakyapa monastery, it was reconstitute as a Geluk monastery by Shar Kalden Gyatso (1607-1677). You can also take a short walk in the main street where you can see many local crafts shops and as well as stores selling nomadic daily product and supplies.  Stay overnight in Rebkong.
20-July Day 4: Rebkong Shaman Festival [2480m]
Today you will be visiting the Shaman festival in Rebkong. Shaman festival also called Lurol in Tibetan which is a celebration or ceremony honors to the local mountain gods and requests they bestow good health on villagers and a successful harvest on the community. The festivals is celebrating each villages with a slightly different activities, but most of them are same. Men beat drums, women dance, boys perform dramas and girls wear their traditional clothes and wear best jewleries. The festival is lively and colorful, the mountains god is invited to the ceremony whereas the Shaman serves as his medium and dancing in the crow. Stay overnight in Rebkong.  
21 July Day 5: Rebkong – Tsekog [3700m] 180km 3 hours
In the morning, visit a different village to explore Shaman festival. If time allows also visit the Thangka painting studios in the Sangge Shong village and see the process of painting Thangkas by locals. Afterwards drive to Tsekog high grassland, the paved road to Tsekog leads across the watershed into Mesho forest valley. you will come upon an open grassland. Set up camp on the grassland, camping with nomads is also one of highlights of this itinerary, which offers a unique experience of Tibetan nomadic life.  Stay overnight in Tsekog. 
22 July Day 6: Tsekog – Ragya Monastery – Machen[3680m] 280km 4-5 hours 
Head out to Machen, the capital city of Golok / Golog Tibetan Prefecture, the most rugged area in all of Amdo Tibet. The land skype changes from green forest and rolling hills into snow mountains. About 40km west of Tsekog town along the main road, you can visit Hor monastery and the Mani stone just behind the monastery, the monastery originally was a tent camp, were constructed by the first Terton Rinpoche in 1831, and the monastery considered a branch of Dodrubchen. Along the way, stop off at Ragya Monastery, a branch of Sera Monastery in Tibet Autonomous Region. Ragya is located at an open red clay valley on the Yellow River bank. There is a half hour circumambulation path around the monastery which you can follow with local pilgrims. Finally, we reach Machen town, one of the fast growing town in this region. Stay overnight in Machen.
23 July Day 7: Machen – Mt. Amnye Machen – Yushu [3710m] 410km 5-6hours
In the morning, drive towards Mt. Amnye Machen / Animaqing. Mt. Amnyi Machen is one of the main holy mountains in Tibet, it is revered in both Tibetan Buddhism and Bon religion as the chief indigenous deity Machen Bora of Amdo Tibet. The existence of this huge mountain results in one of the great bends of yellow river. We will stop at bottom of this majestic snow mountain, walk to the Halong glacier or hike up to a mountain opposite it to have a panoramic view of Mount Amnye Machen. Afterwards continue drive to Jyekundo(Yushu) via Mato town which is the highest town in Amdo with elevation of 4300m from sea level. In Tibetan, Mato means the town which is located at the upper source of yellow river.  Overnight in Jyekundo.
24 July Day 8: Yushu Horse Racing Festival [3710m] (side tour of Yushu )
Before the festival started, hike or drive up to Jyegu monastery, located on a hill behind the town. And it was a Bon monastery originally and later converted to Kagyu and now it is a Sakya monastery, the monastery was completely destroyed during the earth quake in 2010. now the reconstruction is almost done. Afterwards, attend the horse racing. Yushu or Jyekundo Horse Racing Festival is one of most popular horse racing festivals in Tibet. The festival is held from 25thof July to 28thJuly and the first day arrange as a opening ceremony of various government activities, and the second and third day will be the main activities of horse races. The festival also consists of some other interesting cultural events of traditional dances from Kham Tibet, singing, Tibetan dress show, yak riding and other cultural activities. The main purpose of the festival is the commemoration of the legend King Gesar combines with the spread of awareness of three rivers sources. Overnight in Jyekundo.
25 July Day 9: Yushu Horse Racing Festival [3710m] (today is the best)
In the morning, visit Gyana Mani Stone Pile, a huge pile of stones carved with Tibetan Buddhist prayers. The largest field of mani stones in the whole Tibet , approximately 1sqkm in the area. The original temple on this site was constructed in the late 18thcentury by the first Gyana Tobden Tulku. Afterwards visit different festival site, the festival likely hold at Batang Grassland which is a big open area in the mountains, this flat grassland is full of colorful grassland in July. You may also be able to see Yak racing and archery competition during the festival. Overnight in Jyekundo.
26 July Day 10: Yushu – Chendu – Bkk
10.00 Depart Yushu by China Eastern Airlines to Chengdu
11.35 Arrive Chengdu Airport, pick up laggages to go check in again at Thai Airways Row.
16.05 Depart Chengdu to Bangkok by TG619
18.10 Arrive Bangkok Suvarnabhumi Airport.

This is a suggested itinerary, and we are happy to amend in accord with individual client wishes.  In addition, listed here is a summary of this trip's itinerary.  For more detailed information on this or any other trip, please contact us. 
USD 1280
Single Supp: USD 280
Please Note: Trans Tibet Tours reserves the right to substitute any of the mentioned hotels in the itinerary with properties of the same or similar class should the circumstances require us to do so.
What's Included in Tour Prices:
Four star international standard hotel accommodations, double occupancy in Beijing, Lanzhou, and Xining. Best hotels or guest house in Huangnan.
Ground transportation (arrival, departure airport transfer and during tours)
Transfers and luggage (1 piece of 45 pounds per person) handling
All sightseeing and activities listed in the itinerary
All meals specified in the itinerary
Service of an English-speaking Tibetan tour guide(according to the group size, we can offer 2 or more guides)
Private and clean vehicle with air-conditioning
What's Not Included in Tour Prices:
International airfare
Gratuities to guides and drivers
Items not listed and/or specified as included in the itinerary